Gift Giving – Be a "Secret Santa" & help families in the 805
Tis the season to give!  Please consider giving to children and families in need in our local area.  Ventura County, California is in the 805 area code.  Be generous!  Gift giving may come back to you in ways you might not expect. Merry Christmas and Happy Holidays!
Toy Drives
Action Foundation
*YMCA Breakfast with Santa
Bring an unwrapped toy
8-10am Saturday, December 10, 2016
3760 Telegraph Rd, Ventura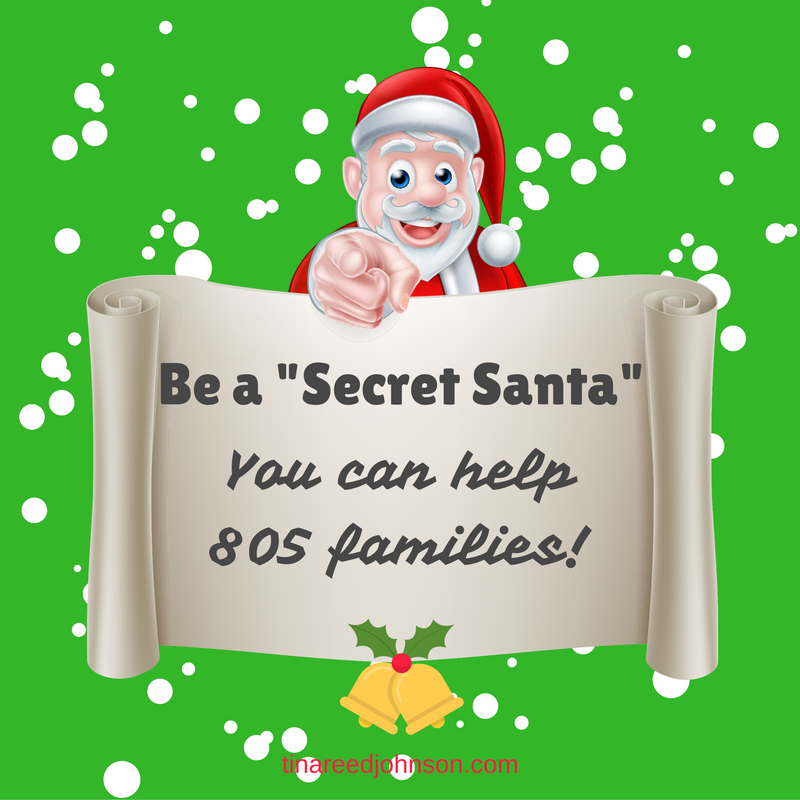 *Casa Pacifica
805 Startups Holiday Gift Drive
Monetary or in-kind donations
Sponsoring 5 Families and 23 Children
Donation form
(Sorry, Amazon wish list is unavailable.)
…also Casa Pacifica Angels Holiday Boutique
Accepting items such as men's wallets, watches, sport team memorabilia, cologne, perfume, key chains, flashlights, candles, bath products, etc. for children to purchase with behavior bucks for their family, teachers, social workers.
Drop off between 8:30am –  5:30pm
1722 S. Lewis Road, Camarillo
(805) 366-4014
Children's Services Auxiliary of Ventura County
Spark of Love Toy Drive
Unwrapped toys or sports equipment or check to nonprofit above (please consider infants and teens)
Drop off by December 24, 2016
Any VCFD fire station
Volunteer Opportunities Available
Toys for Tots (Marine Corps program)
Unwrapped toys worth at least $10
Drop off by December 17, 2016
*SpiceTopia, 576 E. Main Street, Ventura
*Ventura Toyota, 6360 Auto Center Drive, Ventura  (Receive a $25 gift card)
Toys R Us Donation form
http://port-hueneme-ca.toysfortots.org/local-coordinator-sites/lco-sites/default.aspx
UCLA Children's Hospital
Sky High Sports
One free hour of jumping with unwrapped toy
Accepting until January 8, 2017
166 N. Aviator Drive, Camarillo
(805) 484-6300
Food Drives
Cheers for Children
Food donations through *Ventura Unified School District
Dry and canned items accepted at schools locations through December 15, 2016
Or monetary donations (check to nonprofit above)
Volunteer opportunities available
*Food Share
4156 Southbank Road, Oxnard, CA 93036
Donation form
(First week of December, FoodShare Can-Tree Collection at The Collection in River Park)
Vons
Purchase pre-ready bags for $7 at your local store!  They distribute.
Other
*Salvation Army
Give cash to Bell Ringers at a store near you
Donation form
*Please support Ventura Chamber of Commerce Members