Top 3 Facebook Tricks
Facebook Page Redesign
If you are a small business or brand using Facebook to connect with potential customers then you want your Facebook page to appear complete and professional.  This is common sense, but I frequently see the following issues when I'm advising clients on Facebook page redesign.
These Facebook tricks are recommendations that are easy to implement.   If you were placing an ad in the newspaper you'd want it to be attractive with essential information, so don't cut yourself short on your Facebook page!  You want to make sure that people will click that like button as you may not get a second chance!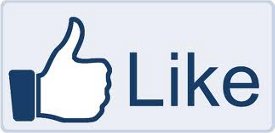 Facebook Tricks #1 Timeline Cover Image
If your Facebook page or profile has been converted to the newer timeline format and you haven't added an image, now is the time!  This isn't really a Facebook trick, but it is an essential part of your Facebook page redesign.  If you do not have a timeline image then it appears as though something is missing with all that "white space."  (Note:  If you haven't been converted on your personal profile you will be soon!)
The image you upload can be a regular photo which gives a good impression of your business, that is of good quality.  You don't need to hire a professional to take a photo (unless you really don't have an eye for what looks good, or you are always cutting heads off of people!).  The other options are to create a graphic size of 851 x 315 pixels, or have one created for you by a graphic designer, or purchase a stock photo.
Facebook rules forbid you from having a text-based image.  They really want you to show a photo, and you can be creative with this by showing a photo collage, adding your logo to the image, or any number of graphic elements, taglines, quotes, etc. in your new Facebook timeline cover.  (Make sure this also coordinates with your profile image.)
Facebook Tricks #2 About Section
Add your business Web site link to the About section.  You only have three lines to describe your page so make it count!  Use your top keywords here because this can be indexed in search engines.  Quick and easy, don'tcha think?  This alone can increase traffic to your Web site and provide information for inquisitive potential customers!
Facebook Tricks #3 Posting
Post regularly and frequently.  If you want to make the most of your efforts on social media you must spend the time to share quality content, and interact with fans and users.  If you need to build your fan base you will need to be on every day, but it doesn't have to be overwhelming, as you can use scheduling software and a simple marketing strategy.
Stay tuned for more Facebook tricks and tips!  Tina Reed Johnson provides social media management and Web marketing consulting services for small businesses and nonprofits, especially in the environmental arena.  Feel free to post a question or comment here, to let us know how we are doing! Connect to us on Facebook.
Another Small Business Internet Marketing Blog by Tina Reed Johnson