Have you reserved your business name online in all the important places?   Don't make the mistake of overlooking this important part of your branding and marketing strategy!  In order for your name to be consistent online you need to make sure you grab it where it is available.
It is a good idea to create accounts on popular online platforms that you may want to access in the future, in addition to your domain name and blog hosting (WordPress, Blogger, etc.).  You also want to prevent anyone else from using it to eliminate confusion with users.  You can check for available account names using social media tools.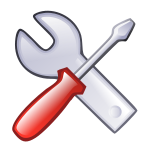 Namechk.com is a good social media tool to check and see where your name is taken, and where it is available.  This site automatically checks domain name and social media profile availability in a matter of seconds.  It includes dozens of the most popular social media sites so that you don't have to check them individually!  (Of course, we know that top social sites include Facebook, Twitter, LinkedIn, Pinterest and Google Plus/YouTube.)
There are links to each site so that you can reserve your name on each platform by signing up for an account.   This really is important and I'll give you an example why.  WP_Dave, my partner in crime, tried signing up for a Twitter account using his long-standing email address.  Guess what?  Someone had already registered a Twitter account with his email address!   It is obvious that it had been hijacked.
The worst part of this is that Twitter makes it almost impossible to get this problem addressed.  WP_Dave  is not the only one with this problem on Twitter, and his issue still isn't cleared up.   There is no link on Twitter Support to take care of this problem.  Unfortunately, it has become nearly impossible to contact support on any popular sites via email or phone nowadays.
So, lesson learned, reserve your accounts using social media tools where it is important to protect your brand integrity.  Any comments?  Please share them below!

Another Small Business Internet Marketing Blog by Tina Reed Johnson