When Sharing is *Not* Caring on Social Media!
You might think that photographers appreciate it when you share their images online.  Believe it or not, this isn't always the case!  There are oftentimes conditions on image use, and you can get into trouble if you are not paying attention.  If you are using someone else's image to spice up your post, you might want to think about it first.
But it's so quick and easy to share social media images, and if it's online it's okay to use it right?  And especially if the photographer name is already on a photo then there shouldn't be a problem.  Hold on there a minute!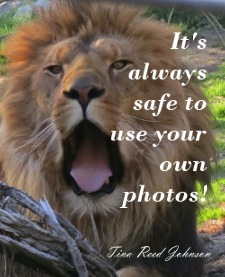 It's important to follow image use guidelines to avoid violating a copyright, and causing problems for yourself and your business. It can be expensive to pay for your mistakes. You may have to hire an attorney, repair damage to your online reputation, in addition to compensating an artist or photographer for image (mis)use.
For information on copyright and fair use please see the Social Media Examiner's blog: Copyright Fair Use and How It Works for Online Images.
Basics on Posting & Sharing Social Media Images
• A good general rule to follow is *not* to post or share images on social media or Websites/blogs unless the owner gives you written permission.  Just because everyone else is doing it does not mean it is a good idea!
Public Domain Image
(No written permission required.)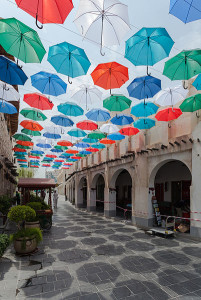 This photographer has granted permission to use his work under certain conditions as posted on Wikimedia Commons.  Be sure to add the attribution as specified (photographer name and licensing info above).
• Always check photographers' or artists' social media profiles or Websites for restrictions on image use. Many times there will not be any information on using their images, but you are expected to know their terms.
Tip: Look very closely for expressed permission online, for example Creative Commons licenses. (A Creative Commons license may look something like this: © Photographer Name Creative Commons (CC BY 3.0)). Click on the Creative Commons link if it is available, and check the licensing terms.  See example above.)
Sometimes terms for image use are not readily seen on different social media platforms. If in doubt, don't share.

• Be especially careful if you are sharing an image on a commercial page. Some photographers expressly forbid it. That term should be specified in a Creative Commons license.
• We strongly recommend giving credit to the photographer or artist wherever possible and practical, even if those terms are not stated.  In addition, on social media make sure you retain the link or tag back to the owner on the post.
• Never download or store online images unless written permission is given by the photographer or owner, or if they are purchased stock photos and you are following the licensing terms. Storing images refers to image libraries, hard drives, fire sharing networks (like Dropbox or Google Drive) or the cloud.
This blog provides tips for posting images online. It is not meant to be a comprehensive source of image use information!

Tell us your experiences with sharing social media images below. Look for our next blog on using stock photos.  Thank you!
Another Small Business Internet Marketing Blog by Tina Reed Johnson