How to Post & Manage Recommendations on LinkedIn
Everyone knows that LinkedIn is the premier business-to-business social media network. It's not just the place to be when you are looking for a job, but it is a great way to connect to decision makers for your business.
It's common for business people and employers to check LinkedIn profiles for recommendations. Several well-written recommendations on your personal profile will help put you in the best light. 
Don't be shy! If you know someone well, go ahead and ask for a recommendation. If you don't want to ask, then take the initiative and write one for someone else. It may encourage them to write one for you!
Tip: Don't expect everyone to respond to a recommendation request. Always ask nicely and try to give people an out so that they can politely refuse.
Submitting a LinkedIn Recommendation
1. Sign in to your LinkedIn account.
2. Enter your connection's name into the search box to view their profile.
3. Click on the dropdown box arrow by Send Message (to the right of the profile photo) and choose Recommend in the list.

4. Select Colleague, Service Provider, Business Partner, or Student and click the Go button in the dialog box.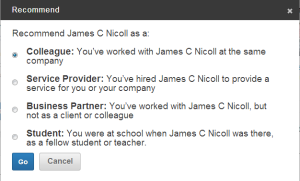 5. A new box will appear based on the category above you choose. You may be requested to enter more information on your relationship, qualities or attributes of the person, or on positions or services if you hired the person as a service provider. You will then be asked to provide a brief recommendation (a few sentences) below.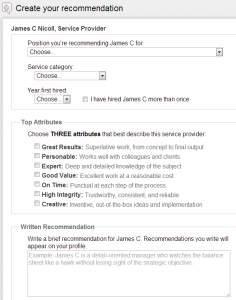 Tip: Write your recommendation elsewhere and then copy and paste it into the Written Recommendation box.
Above all, think about what you are writing, to ensure that it is professional and helpful. Afterwards, you will receive a message that "Your Recommendation has been created" at the top of the page.
6. This form will be sent to the person you recommended and give them a chance to hide it, accept it, or request an edit from you before it is posted on their profile.
Endorsements
LinkedIn endorsements are kind of a "mixed bag." LinkedIn encourages you to endorse your connections, assuming that you must know the person and all of their skills. But, many give endorsements for people they don't know to try and get return endorsements.
Personally, I never give endorsements for those that I don't know, because I want to have knowledge of their work and credibility. Otherwise, an endorsement is meaningless if there is no substance behind it. It doesn't take any thought just to click a button.
Tip: If you have not done business with someone or do not know them well enough to provide a recommendation or endorsement, then don't!
Here's an endorsement box that automatically appears at the top of your profile page. They make it really easy for you, just click the Endorse button!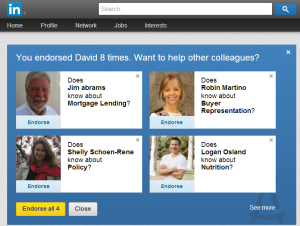 Update:  Unfortunately, LinkedIn removed the products and services page, and along with it went the ability to post recommendations to company pages.
We'd love to hear about your experiences in the comments.  Have you ever hired someone you met on LinkedIn? Have you ever formed a partnership?
Help us out and write a review for Tina Reed Johnson today! One thing about social media is that it requires being social if you want to make the most out of your online efforts. This includes paying someone back for a recommendation, referral or tip they may have given you! : )  Having said that, feel free to give this information to your customers so they can type a recommendation for you. Share this blog link on your social media, Website, or emailing them a link to this page in your next newsletter.
Help!
Managing & Reviewing Received Recommendations & More by LinkedIn
LinkedIn Social Media Page by Tina Reed Johnson
LinkedIn Help Center & Learning Webinars by LinkedIn
11 Brilliant Ways to Crush It on LinkedIn by Business to Community

Blog updated 7/25/14
This is part of our How to Pay it Forward Series and
Another Small Business Internet Marketing Blog by Tina Reed Johnson