Google Local vs. Google Plus Pages
Is it clear to you what a Google Local (formerly Places) page, and a Google Plus page are?  And how can they help your business?
We'll tell you how to tell the difference, and give you some pointers.  But first, let's start from the beginning.  Your purpose needs to be determined before creating any Google pages.  Do you want your business or organization to be found in Google Maps and Local (especially on mobile)?  Do you want people to post reviews of your business?  Then you will want a Google Local page as part of your local search strategy.
Tip:   Before creating any type of social media page, you should always check and make sure you do not already have a listing. Many pages have been automatically created with information off of the Internet. 
Google Local Page
Swift Chip, Inc. is a Ventura, California Chamber member, and helpful local resource for computer repair and service.  Please see their Google Local page below.  You can get to this page through Google Maps or your Google Plus account.  Some local pages may also appear in Google Search.

Swift Chip has an exceptional 30 out of 30 score.  If I needed computer service in the Ventura or Los Angeles area, I would give them a call!  Besides, I can see that friends of mine have used them, and had a great customer service experience.  Online recommendations are the #1 way people find a business nowadays!
#  #  #  #  #

If you locate a page for your business on Google Maps or within Google Plus (and the Local icon at left), then you will need to claim the listing, and verify it through Google.   You can do this through the "Manage this page"  link below (it appears at the bottom right-hand of the page).  Click and it will lead you through the steps necessary to edit and claim your page.

Tip:  You do not have to list a physical address on your Google Local page.  For instance, if you have a home-based business you can choose to hide your address when you edit your page.
Google Plus Page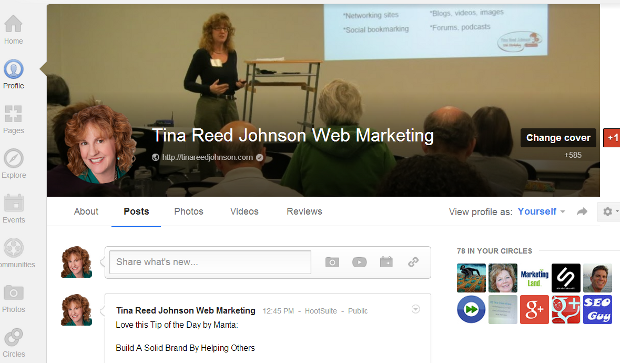 If you have an online or decentralized business and do not want to be found in Local search, then you may not want a Local page. You may want a Google Plus page as shown above. In some cases, you may want both types of pages.
The big advantage of having a Google Plus page is for the social functionality.  You need a page if you want to connect to customers, develop leads, and post G+ status updates.  Note that there is no status update box on Google local pages.  Local pages have limited functionality on Google Plus.
The way the pages are found in search is also different.  Your Local page may show in Google Search, as well as Google Maps and Google Plus.  Business pages can't be accessed through Google Maps, but may be found through Google Search and Google Plus.
This is where the waters get a little muddy.  There is the option to potentially merge existing Local pages with business pages.  However, certain conditions have to be present for this to happen.  The same Google account must have been used to create both pages.  Also, the Google Plus page has to be in the local category.  There is no way to change your page category at this point.  There can be a difficulties in accomplishing a merge, so you may want to wait for Google to make this a more automatic process.
So do I need both pages?  The answer is yes, if you want to make sure people can find your business in Google Maps and Local, and you want to use the capabilities of Google Plus to connect and socialize.  This requires maintenance of both pages!
Help!
More about the differences between pages
Google support 
Another Small Business Internet Marketing Blog by Tina Reed Johnson