How to Post & Manage Reviews on Google Plus

Writing a review on Google Local is a great way to help promote businesses online.  It is also a wonderful way to encourage reviews on your page to attract more customers.
If there is one thing we know, it's that sharing is caring on social media.  Sharing posts is only one way to show that you care.  Posting reviews for businesses on local search is another.
Posting a Google Local Review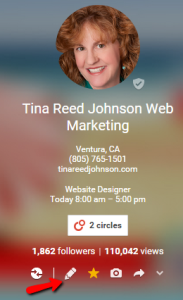 1.  Sign in to your gmail and Google Plus account.  (A Google email and Google Plus account is required, see https://accounts.google.com to set one up.)
2.  Once you have logged in to your Google account, log in to Google Plus.
3.  Search for the page you want to write a review for in the search box at the top.
4.  Click the pencil icon at the bottom of the page header on the left.  (You can also access a Google Local page through Google Maps.)              
Tip:   You might try typing in different variations of the name if you can't find what you are looking for. 
You are allowed over 750 characters for text, and you can rate the business up to five stars.
                Tip:  Think about what you are writing.  This review will be public and attached to your personal Google profile!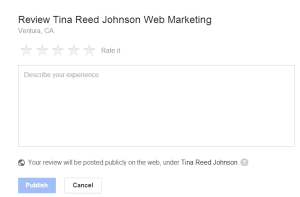 Obviously, positive reviews can attract customers and negative reviews can repel potential customers. Use constructive criticism if you have something negative to say about another business.  If you receive negative reviews on your page from customers respond to them in a positive way and try to resolve any issues.
Google Local page owners can't delete reviews.  One of the best things you can do is try and get more positive reviews to balance the negative reviews.  Be sure to follow the tips in this negative reviews article.
Search Engine Watch also hosts this article worth reading: Google Warns SEO & Businesses to Avoid Fake Reviews.  It contains more helpful tips, and is not just about fake reviews.
                Tip:  Write your review first in Word, and then copy and paste the final version into the review box.
Write a review for Tina Reed Johnson today!  One thing about social media is that it requires being social if you want to make the most out of your online efforts.  This includes paying someone back for a recommendation, referral or tip they may have given you.
Also, you might want to share this information with your customers by sharing this blog on your social media, Website, or emailing them a page link in your next newsletter!
Help!
Read this first!  Tips for Writing Great Reviews by Google
Writing and Sharing Reviews by Google
Google Local and Plus Pages Blog by Tina Reed Johnson
Blog updated 7/24/15
This is part of our How to Pay it Forward Series and
Another Small Business Internet Marketing Blog by Tina Reed Johnson