Should I use the measuring cups or just guess-timate Website ingredients?  To improve Website content, navigation or search engine visibility you need to know what's happening with your site.  The fate of your dessert (and your Website) depend on good decisions based on Web analytics.
Google Web Analytics Dashboard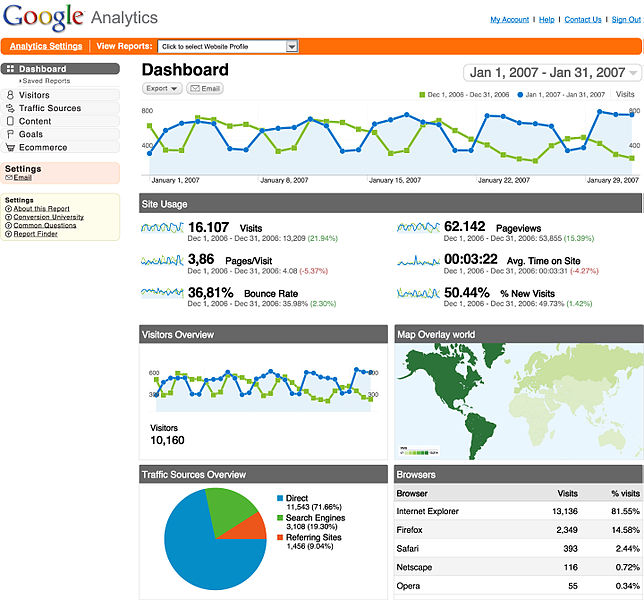 There are many useful tools to analyze raw data that your Website generates. The most common in our Google-centric world, is the free Google Analytics. Google Web analytics makes it easy for site and blog owners or webmasters to collect data.  And easy-to-use reporting tools make this data understandable.
Any good blog writer and SEO (search engine optimization) consultant will use graphing and charting tools to interpret data in simple, understandable terms. In addition, an SEO consultant will have corrective action or guidance for you to adjust your site accordingly.
Another Web analytics tool, the free Piwik, has its roots in the Open Source community.  For some folks, the advantage of Piwik and other Open Source Web analytics, is that only you can view the data.  Whereas, Google's servers host Google Web analytics data, and the data is at Google's discretion.
Similar to Google Web analytics, Piwik can create graphs and reports from Website data (see demo).  Although there are some additional setup chores, Piwik has a loyal following and is becoming popular.  To sum up, regardless of the tool you use to measure Web data, something is needed to measure and analyze how well you are reaching customers and readers.
In addition to measuring the ingredients (I mean analytics), there are ways to improve your Website.  Good copywriting, appropriate multimedia and general marketing expertise are sure tickets to get high ranking.  Also, a good, easy-to-use foundation that is search-engine friendly makes all the difference in the world.  In fact, one well-known expert in the field of SEO, Jill Whalen, recommends WordPress in her newsletter.  Hey, what do you know, we're all about WordPress at TinaReedJohnson.com.
So, what do you think about measuring and Web analytics?  Do you prefer "eye-balling" the measuring cup or just winging it?  If you need to precisely spend your marketing dollars, I'll bet you'll "measure twice and cut once" as the saying goes. Are you using Google Web analytics? Let us know in the comments below or send me email at WP_Dave if you have a favorite Web analytics tool.  Until next time, may your bread rise and your pans come out clean..
~~ In the kitchen with WP_Dave